Spears & Munsil Ultra HD Benchmark (2023)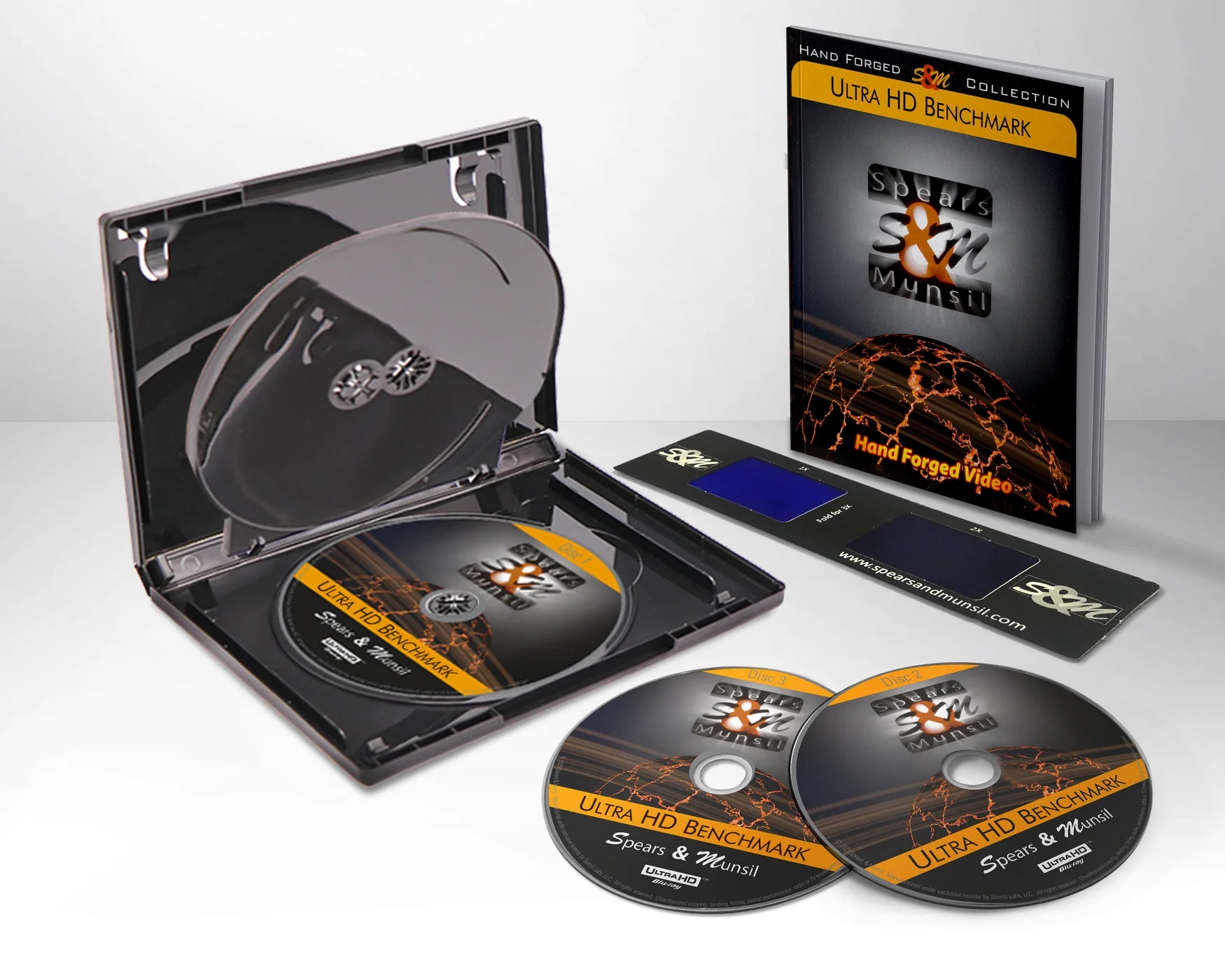 AVAILABLE NOW - THE ULTIMATE BENCHMARK TEST FOR YOUR HOME CINEMA SETUP!
Please ensure that you own an Ultra HD Blu-ray Player. Standard blu-ray players cannot play Ultra HD Blu-ray Discs.
Whether you're a home cinema enthusiast or a professional calibrator, you'll find all the tests you need to set up, evaluate and adjust your Ultra HD TV in the Spears and Munsil Ultra HD Benchmark.
Previous editions of Spears and Munsil Benchmark Discs have been recommended by the New York Times, Sound & Vision, Home Theater Magazine, Widescreen Review and dozens of other print and online publications. This new Ultra HD edition contains all-new patterns optimized for SDR, HDR, wide color gamut and UHD resolutions.
Key features include:

Calibration patterns to help set up displays for optimal clarity 
Evaluation patterns for motion, sharpness, color alignment & more


Original demonstration clips shot and mastered in 8K HDR

Demo material encoded in all supported HDR formats
Audio tests available in Dolby Atmos and DTS:X
Extensive selection of patterns for the professional calibrator
The Spears and Munsil Ultra HD Benchmark is the most accurate and comprehensive UHD test disc available anywhere. Every pattern was created using our exclusive ultra-high-precision software tools and represents the state of the art in video reproduction.
This is Hand Forged Video!
Disc 1:
 Configuration: Dolby Vision (Default)
Dolby Vision (Analysis)
Perceptual
Absolute
Relative
Configuration: HDR10+
Configuration: HDR10
Peak Luminance (cd/m²)
350
600
1000
2,000
4000
10,000
 
Audio Format (A/V Sync):
Dolby Atmos
Dolby TrueHD
DTS:X
DTS-HD MA
Video Setup: Baseline
Brightness
Contrast
Color and Tint
Sharpness
Color Temp
Framing
Bias Light
Color Space Evaluation
Color Space Evaluation HFR
Color Space Evaluation HD
 
Video Setup: Optical Comparator
Fixed
Red
Green
Blue
10%
20%
30%
40%
50%
60%
70%
80%
90%
 
A/V Sync
Framerate
23.976
59.94
Resolution
HD
Ultra HD
Continuous
Side-to-Side
Sync-One2 Calibration
Sync-One2
Advanced Video: Evaluation
Dynamic Range High    
Dynamic Range Low    
Scaling
Scaling HD
Scaling 2.39:1
Scaling 2.39:1 HD
EOTF ST2084
EOTF Combined
Image Cropping
Geometry
1:1 Pixel Horizontal
1:1 Pixel Vertical
1:3 Pixel Diamond
Single Pixel Checkerboard
Variable Checkerboard
Variable Checkerboard (Alt)
Dots Black
Dots White
 
Advanced Video: Evaluation Color
Dynamic Range High Red
Dynamic Range High Green
Dynamic Range Low Red
Dynamic Range Low Green
Dynamic Range Low Blue
Clipping (cd/m²)
Clipping (Code Value)
Hue Shift
HSV Sweep BT.709|BT.2020
HSV Sweep P3D65|BT.2020
HSV Sweep BT.2020
Color and Tint Red
Color and Tint Green
Color and Tint Blue
HDR Color Bars
Color Bars
Tartan Bars
Chroma Alignment
Chroma Align (Num)
Chroma Align (Num) HD
Chroma Upsampling Eval
Variable Checkerboard
Variable Checkerboard (Alt)
Zone Plate
Monotonicity YCbCr
Monotonicity RGB
 
Advanced Video: Ramps
Gamut
P3D65|BT.2020
BT.2020
Ramp
Stimulus
Stimulus Steps
White
Red
Green
Blue
Cyan
Magenta
Yellow
Saturation
Saturation Steps
Red
Green
Blue
Cyan
Magenta
Yellow
Tone Mapping
White
 
Advanced Video: Resolution
Resolution
Multiburst
Wedge
Zone Plate
Luma:
    Non-Linear
Linear ST 2084
Chroma (64):
Chroma (502):
Chroma  
  Chroma
Chroma Crossed  
  Chroma Crossed
Cb 
  Cb
Cr
Cr
RGB Legal:
Cb   
 Cr
Red  
  Green
Blue 
Cyan
Magenta  
Yellow
 
 
Advanced Video: Aspect Ratio
1.33:1
1.43:1
1.67:1
1.78:1
1.85:1
1.896:1
2:1
2.2:1
2.35:1
2.39:1
2.55:1
2.76:1
 
Advanced Video: Panel
Pixel Aging
Peak Luminance
Luminance Loading
FALD Zone Counter
Dynamic Contrast
Spatio-Temporal Noise
Starfield Low
Starfield Medium
Viewing Angle
Viewing Angle Dots
Large-area Uniformity 0%
Large-area Uniformity 100%
 
Advanced Video: Contrast Ratio
Simultaneous (0 / 20 cd/m²):
Alignment
4x4 Checkboard    
4x4 Checkboard (Alt)
 
Simultaneous (0 / 10K cd/m²):
Alignment
4x4 Checkerboard    
4x4 Checkerboard (Alt)
 
Sequential:
Alignment    
On - 100%
Off - 0%    
Off - Single Pixel
Off - White Surround    
Off - Peak
Off - Corner Box    
Off - Spatio-Temporal Noise
Off - Starfield Low    
Off - Starfield Medium
 
Advanced Video: PCA
On
Off - 1
Off - 2
Off - 3
Off - 4
Off - 5
Off - 6
Off - 7
Off - 8
Off - 9
 
Advanced Video: ADL
Stimulus
40%
100%
On:                 Off:
1%                  1%
 
Advanced Video: Motion
Motion Resolution Half Cosine
Motion Resolution Square
Quantization Rotate RGB
Quantization Rotate CMY
Quantization Rotate YCbCr
Quantization Motion
Quantization 2D Cb
Quantization 2D Cr
Luma Wedge
xXx Parade
Stock Ticker (23.976)
Stock Ticker (24)
Color Smearing
Motion Interpolation
Sarah on a Hammock
 
Advanced Video: Motion HFR
Motion Resolution Half Cosine
Motion Resolution Square
Quantization Rotate RGB
Quantization Rotate CMY
Quantization Rotate YCbCr
Quantization Motion
Quantization 2D Cb
Quantization 2D Cr
Luma Wedge
xXx Parade
Stock Ticker (59.94)
Stock Ticker (60)
Color Smearing
Motion Interpolation
Sarah on a Hammock
 
Advanced Video: Specialty
Dolby Vision
Perceptual
Absolute
HDR10
Peak Luminance (cd/m²)
0
350
600
1000
2,000
4000
10,000
Dynamic Range High
Dynamic Range Low
Clipping (cd/m²)
Clipping (Code Value)
Tone Mapping
Hue Shift
 
Analysis: Grayscale
Size
Field
Window
    Alignment
0%    1%       2%      3%      4%
5%     10%    15%    20%    25%
30%    35%    40%    45%    50%
55%    60%    65%    70%    75%
80%    85%    90%    95%    100%
Analysis: cd/m²
Size
Field
Window
1
10
100
203
350
600
1000
2000
4000
10,000
 
Analysis: Peak vs. Size
1%
2%
5%
10%
25%
50%
75%
100%
 
Analysis: ColorChecker
White
Gray 80
Gray 65
Gray 50
Gray 35
Dark Skin
Light Skin
Blue Sky
Foliage
Blue Flower
Bluish Green
Orange
Purplish Blue
Moderate Red
Purple
Yellow Green
Orange Yellow
Blue
Green
Red
Yellow
Magenta
Cyan
 
Analysis: Saturation Sweeps
Gamut
P3D65|BT.2020
BT.2020
    Stimulus: 58%
Grayscale:                                                   100%
Red:       20%    40%    60%    80%    100%
Green:    20%    40%    60%    80%    100%
Blue:       20%    40%    60%    80%    100%
Cyan:      20%    40%    60%    80%    100%
Magenta:20%    40%    60%    80%    100%
Yellow:     20%    40%    60%    80%    100%
 
Analysis: Gamut
Gamut
UHDA-P3D65|BT.2020
P3D65|BT.2020
BT.2020
    Stimulus:     100%
White
Red
Green
Blue
Cyan
Magenta
Yellow
White 100
Disc 2:
Configuration: Dolby Vision
Configuration: HDR10+
Configuration: HDR10
Peak Luminance (cd/m²):
350
600
1000
2000
4000
10,000
Motion
Color Smearing
Near-black Overdrive
Motion HFR
Color Smearing
Near-black Overdrive
Skin Tones
Alex
Alexandra
Gabriela
Jacely
Jennie
Joy
Monette
Yoko
3x3 Matrix
Group
Demonstration Material
Dolby Vision:
10,000 BT.2020
HDR10+:
10,000 BT.2020
Advanced HDR by Technicolor:
1000 BT.2020
HDR10:
10,000 BT.2020
2000 BT.2020
1000 BT.2020
600 BT.2020
HDR Analyzer
HDR VS. SDR
Graded vs. Ungraded
Hybrid Log Gamma:    
1000 BT.2020
SDR:
BT.709
Disc 3:
Configuration
Color Space
BT.709
BT.2020
Audio Format (A/V Sync)
Dolby Atmos
Dolby TrueHD
DTS:X
DTS-HD MA
Audio Levels and Bass Management:
Audio Format
Dolby
DTS
Base Layer
5.1
7.1
9.1
Top Layer
2
4
6
 
Video Set Up: Baseline
Brightness    
Contrast
Color and Tint    
Sharpness
Color Temp    
Framing
Gamma    
Backlight
Bias Light    
Color Space Evaluation
Color Space Evaluation HFR    
Color Space Evaluation HD
 
Video Set Up: Optical Comparator
Fixed
Red
Green
Blue
10%
20%
30%
40%
50%
60%
70%
80%
90%
 
Audio: Levels
Pink Noise 500 Hz to 2 kHz (-30 dBFS)
Pink Noise 30 Hz to 80 Hz (-40 dBFS LFE)
Base Layer
Top Layer
 
Audio: Bass Management
Filtered Pink Noise 30 Hz to 50 Hz (-30 dBFS)
Filtered Pink Noise 30 Hz to 50 Hz (-40 dBFS LFE)
Base Layer
Top Layer
 
Audio: Panning
Circular:
Base Layer
Top Layer
Base layer and Top Layer
Diagonal:
Top Front Left to Top Rear Right
Top Front Right to Top Rear Left
Front Left to Right Surround Rear
Front Right to Left Surround Rear
 
Audio: Rattle Test
Low Frequency (-10 dBFS):
500 Hz to 200 Hz Sweep
200 Hz to 15 Hz Sweep
 
Audio: A/V Sync
Framerate
23.976
59.94
Resolution
Hd
Ultra HD
Continuous
Side-to-Side
Sync-One2 Calibration
Sync-One2
 
Advanced Video: Evaluation
Dynamic Range High    
Dynamic Range Low
Scaling    
Scaling HD
Scaling 2.39:1    
Scaling 2.39:1 HD
Image Cropping    
Geometry
1:1 Pixel Horizontal    
1:1 Pixel Vertical
1:3 Pixel Diamond    
Single Pixel Checkerboard
Variable Checkerboard    
Variable Checkerboard (Alt)
Dots Black    
Dots White
 
Advanced Video: Evaluation Color
Dynamic Range High Red
Dynamic Range High Green
Dynamic Range High Blue
Dynamic Range Low Red
Dynamic Range Low Green    
Dynamic Range Low Blue    
Clipping (RGBWK)
Clipping (Code Value)
HSV Sweep
Color and Tint Red
Color and Tint Green
Color and Tint Blue
SDR Color Bars
Color Bars
Tartan Bars
Chroma Alignment
Chroma Align (Num)
Chroma Align (Num) HD
Chroma Upsampling Eval
Variable Checkerboard
Variable Checkerboard (Alt)
Zone Plate
Monotonicity YCbCr
Monotonicity RGB
 
Advanced Video: Ramps
Ramp
Stimulus
Stimulus Steps
White
Red
Green
Blue
Cyan
Magenta
Yellow
 
Advanced Video: Resolution
Resolution
Multiburst
Wedge
Zone Plate
    Luma:
NonLinear                          Linear Gamma 2.4
Chroma (64):
Chroma (502):
    Chroma
Chroma
    Chroma Crossed            Chroma Crossed
    Cb 
   Cb
    Cr  
 Cr
RGB Legal:
    Cb
Cr
    Red
Green
    Blue
Cyan
    Magenta
Yellow
 
Advanced Video: Aspect Ratio
1.33:1    
1.43:1
1.67:1    
1.78:1
1.85:1    
1.896:1
2:1    
2.2:1
2.35:1    
2.39:1
2.55:1    
2.76:1
 
Advanced Video: Panel
Dynamic Contrast    
Spatio-Temporal Noise
Starfield Low    
Starfield Medium
Viewing Angle    
Viewing Angle Dots
Large-area Uniformity 0%    
Large-area Uniformity 100%
 
Advanced Video: Contrast Ratio
Simultaneous (0 / 50%):
Alignment
4x4 Checkerboard
4x4 Checkerboard (Alt)
Simultaneous (0 / 100%):
Alignment
4x4 Checkerboard
4x4 Checkerboard (Alt)
Sequential:
Alignment    
On - 100%
Off - 0%    
Off - Single Pixel
Off - White Surround    
Off - Peak
Off - Corner Box    
Off - Spatio-Temporal Noise
Off - Starfield Low    
Off - Starfield Medium
 
Advanced Video: PCA
On    
Off - 1
Off - 2    
Off - 3
Off - 4    
Off - 5
Off - 6    
Off - 7
Off - 8    
Off - 9
 
Advanced Video: ADL
Stimulus
40%
100%
On:
Off:
1%
1%
2%
2%
3%
3%
4%
4%
5%
5%
10%
10%
15%
15%
20%
20%
25%
25%
30%
30%
 
Advanced Video: Motion
Motion Resolution Half Cosine
Motion Resolution Square
Quantization Rotate RGB
Quantization Rotate CMY
Quantization Rotate YCbCr
Quantization Motion
Quantization 2D Cb
Quantization 2D Cr
Luma Wedge
xXx Parade
Stock Ticker (23.976)
Stock Ticker (24)
Motion Interpolation
Sarah on a Hammock
 
Advanced Video: Motion HFR
Motion Resolution Half Cosine
Motion Resolution Square
Quantization Rotate RGB
Quantization Rotate CMY
Quantization Rotate YCbCr
Quantization Motion
Quantization 2D Cb
Quantization 2D Cr
Luma Wedge
xXx Parade
Stock Ticker (59.94)
Stock Ticker (60)
Motion Interpolation
Sarah on a Hammock
 
Advanced Video: Skin Tones
Alex    
Alexandra
Gabriella    
Jacely
Jennie    
Joy
Monette    
Yoko
3x3 Matrix    
Group
 
Advanced Video: Gamma
Combined
1.9
2.0
2.1
2.2
2.3
2.4
2.5
2.6
 
Analysis: Grayscale
Size
Field
Window
Equal Energy
Alignment
0%     1%      2%      3%       4%
5%     10%    15%     20%    25%
30%    35%    40%    45%    50%
55%    60%    65%    70%    75%
80%    85%    90%    95%    100%
 
Analysis: Gamut
Size
Field
Window
Equal Energy
Stimulus: 100%
White 75
Red
Green
Blue
Cyan
Magenta
Yellow
White
 
Analysis: Color Checker
White
Gray 80
Gray 65
Gray 50
Gray 35
Black
Dark Skin
Light Skin
Blue Sky
Foliage
Blue Flower
Bluish Green
Orange
Purplish Blue
Moderate Red
Purple
Yellow Green
Orange Yellow
Blue
Green
Yellow
Magenta
Cyan
100% Red
100% Green
100% Blue
100% Cyan
100% Magenta
100% Yellow
2E
2F
2K
5D
7E
7F
7G
7H
7I
7J
8D
8E
8F
8G
8H
8I
8J
 
Analysis: Saturation Sweeps
Stimulus: 75%
Grayscale:    0%    100%
Red:    20%    40%    60%    80%    100%
Green:    20%    40%    60%    80%    100%
Blue:    20%    40%    60%    80%    100%
Cyan:    20%    40%    60%    80%    100%
Magenta:    20%    40%    60%    80%    100%
Yellow:    20%    40%    60%    80%    100%
 
Analysis: Luminance Sweeps

Grayscale:     0%    10%    20%    30%    40%    50%    60%    70%    80%    90%    100%
Red:         10%    20%    30%    40%    50%    60%    70%    80%    90%    100%
Green:      10%    20%    30%    40%    50%    60%    70%    80%    90%    100%
Blue:         10%    20%    30%    40%    50%    60%    70%    80%    90%    100%
Cyan:        10%    20%    30%    40%    50%    60%    70%    80%    90%    100%
Magenta:  10%    20%    30%    40%    50%    60%    70%    80%    90%    100%
Yellow:      10%    20%    30%    40%    50%    60%    70%    80%    90%    100%